01/05/2015
They followed a french pionner Hervé Courtine who made the edition of year 2013
=> Read his history in 2013
and they where accompanied by Boris Petroff who (10 time Worldloppet skier !) who was a précious guide because he is speaking russian
In 2013, for the first time in Worldloppet circuit , temprature was very low said Hervé Courtine, but in 2015 it was spring , lot of sun , temperature at night just below à 0°c ans 15°c at beginning of afternoon ! absolutely not what we expected i nRussia, but it was fine :)
How to arrive to Rybinsk ?
Rybinsk is about 340 km at north of Moscou. We made the choice to rent a car to the airport : it is easyer with all your skis and we could made a little of tourism in Moscou and visit other cities on the travel ( for example we recommand to visit Yaroslav who is at 70 km from Rybinsk)
Remember to book a GPS as it is not always easy to find the good way in this great country and everything is written in Cyrillic (beware it is sometimes difficult to return to the GPS a Cyrillic address !! )
As we were in mild period we have had to suffer as sometimes coarse holes on the road, but if conditions are "Siberian" expect more of a 4 * 4.
Plan one day of travel from Moscou to Rybinsk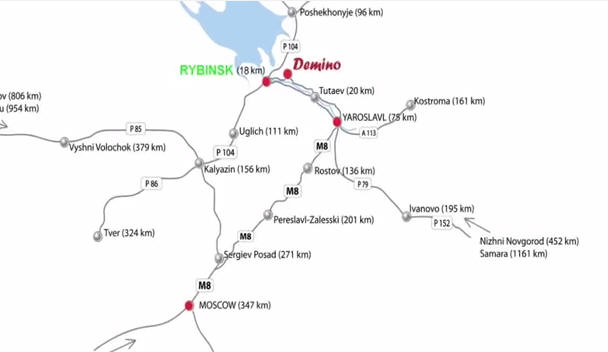 Arrival to Demino
Stadium Demino snow (pronounced Diomino) is located 18 km northeast of Rybinsk which is a pretty big city and there are few hotels.
Some skiers will choose to stay right next to the slopes, the Sporthotel (right in the photo below), which is convenient to test the skis, but they will find themselves isolated from everything (no trade)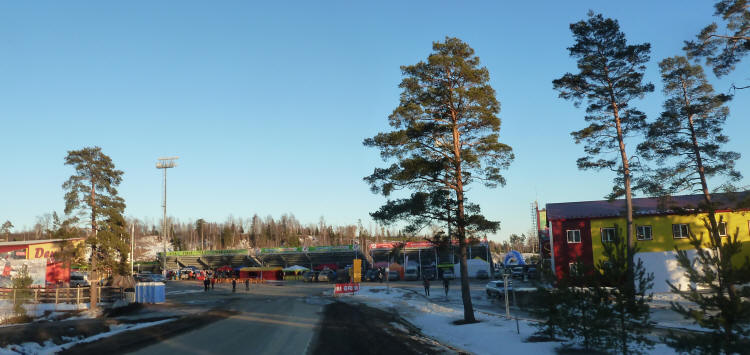 On the advice of Hervé Courtine who had tested in 2013, we had booked in Brygantina hotel located on the banks of the Volga River with excellent price / quality and spotlessly clean.
But it is located in the countryside away from the city of Rybinsk and very hard to find (especially at night ... since has lost 2 times)
In case of return to Demino marathon, I would probably choose to stay in a city for everyone to see ...

Reception to Demino

Foreigners are welcomed in an extraordinary way: pasta private party, floor reserved to change and leave his business, gift cap ....
Russian hospitality is not an empty word!

All Worldloppet masters had a special report for themselves with their number of Worldloppet passports validated and Boris Petroff eg our guide had marked on his number "X Worldloppet passports" !!!! ....
below a picture of the patrician Turlan ... this ensures ++++
The course
The main race is on Saturday with a 50 km free technic which constitutes a loop of 24.5 km to go 2 times
departure is by wave every 3 minutes (so all is well .... not like some races in France!) and the route is fairly flat except 2 ascents, the first is after less than one km race which allows for the selection and fast enough to stretch the peloton.
In fact 4/5 of the race are at the heigts of the stadium

at 2/3 of the first loop we go back to the stadium and it is very nice, before attacking the 2nd ascents which is made in several steps

The finish is quite (big downhill) and passes under a beautiful arch while the speaker keeps yelling into the microphone (sorry but it is my feelings)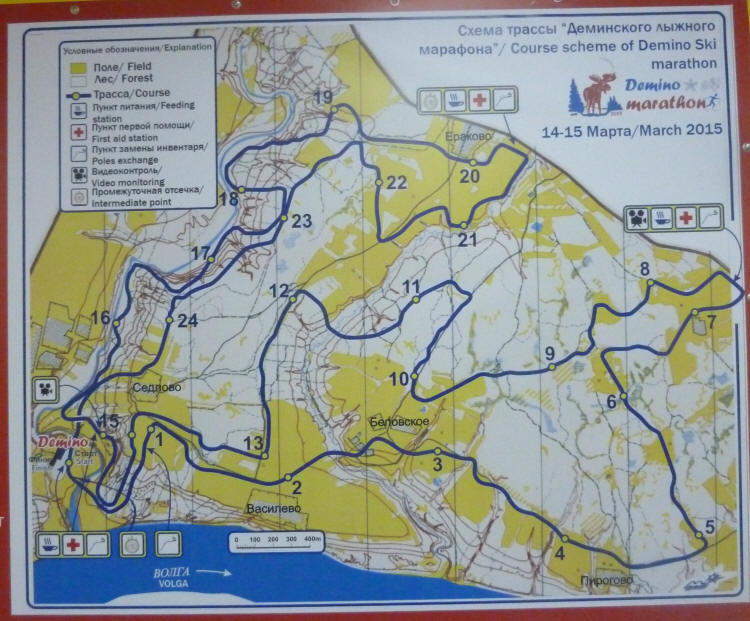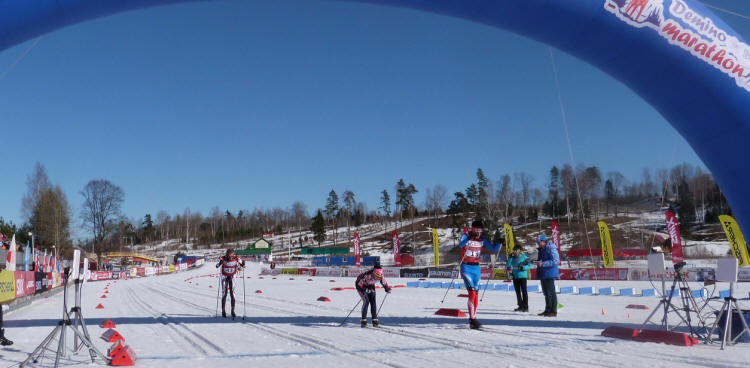 The final sprint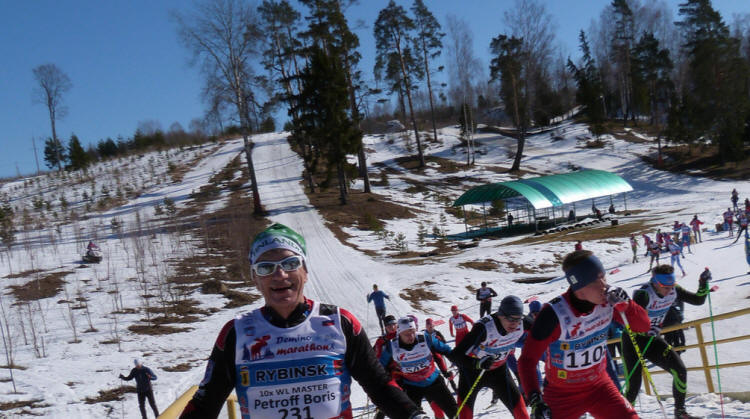 Boris Petroff and his marvelous personnalised bib !

A fairly flat course


stage finish with the giant billboard or seen his name in large with the times immediately

Boris Petroff with his beautiful finisher medal, all in an amazing sweetness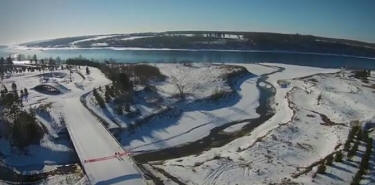 Volga is near the stage start / finish, but given the fairly sweet condition she was not completely frozen

The banks of the Volga in Rybinsk, and right bridge to the Demino stadium (18 km of Rybinsk)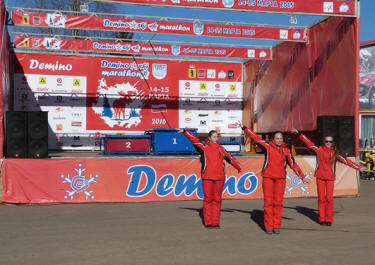 The animations on the podium when waiting results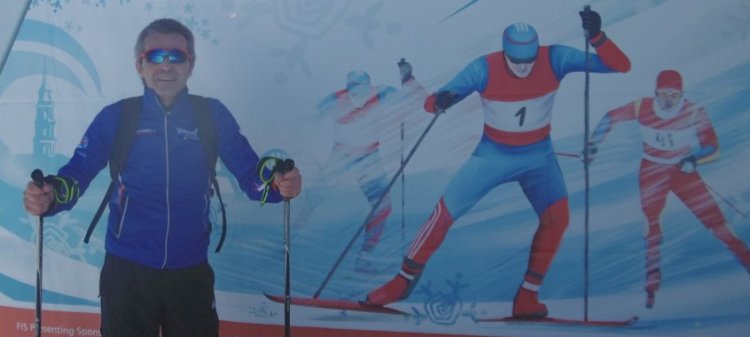 For the return
Do not forget to visit Moscow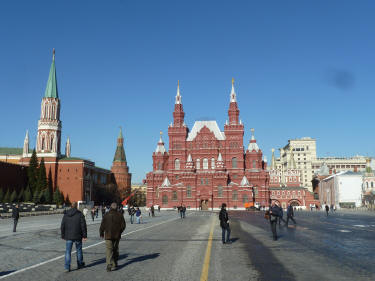 and Red Place with the Kremlin and Lenin's mausoleum
nor Yaroslav (75 km from Rybinsk), below we see a loop of the river is frozen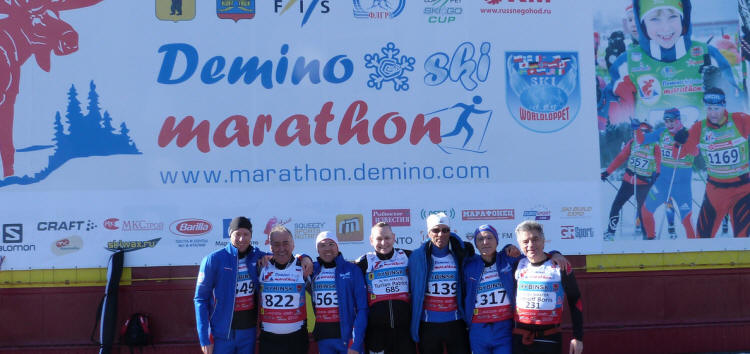 The "team Worldloppet France" salute you ... and left delighted without having cold!

Formalities
do not forget to allow a month to get a visa: (we went through www.allerenrussie.com and it cost us € 140!)
a repatriation medical certificate if you are asked bp (is obtained free of charge from the bank to which you have subscribed for a bank card service included in these cards) and set a time limit to get as
no need to have a license or any medical certificate of fitness,
with a passeport Worldloppet you will be assured to start in 2nd way line
Read more on www.masterskidefond.fr